As the hottest season approaches in Thailand, you see the entire country go bananas by celebrating in overly friendly water fights and street parties that last for 3 days. It's called Songkran, the Thai New Year.
During Songkran most businesses and shops shut down completely, leaving big shopping malls and local bars open to accommodate the festive goers. Half of Bangkok's residents travel back to their hometowns for family reunions, while the other half stays in Bangkok to join the fun.
What is Songkran?
Traditionally, Thais celebrate Thai New Year by gently pouring water on elders' hands, visiting temples, and attending family reunions. On the first day of Songkran, Thais usually perform the Rod Nam Dum Hua ritual. During the ritual, the younger generation would pour fragrant water into the elders' palms as a gesture of humility while asking for blessing and forgiveness. Another important religious ritual during Songkran is 'Bathing the Buddha,' in which people pour fragrant water over Buddha statues at the temple, at home or on the streets.
The date of Songkran is from April 13th to 15th every year in Bangkok in keeping with the Buddhist/Hindu solar calendar. Depending on where you are in the country, the dates of festivities may vary.
Water Symbol
The traditional water pouring is meant as a symbol of washing away sins. Traditionally, Thais would politely pour a bowl of water on family members and their close friends. Somewhere along the way, a bowl became a bucket, and a garden hose became a water gun and now we have fire trucks! Songkran has since taken a more festive note turning the city into a giant water fight.
The Hot Spots in Bangkok
There are a few hot spots in Bangkok for celebrating Songkran, but the two places that attract the most crowd are Silom and Khao San Road.
Silom Road
Silom Road attracts the largest and wildest crowd in Bangkok. The entire 3 mile (5 km) length of Silom road is packed with young Thais carrying anything that can spray water. The city sets up automatic spraying machines and giant barrels of water to aid the celebration. The best, and the worst, part is that everyone's water temperature is different. If you're carrying water guns with your friends be prepared to experience water from all directions from lukewarm to icy cold! I had water sprayed and poured on me from all directions, and I am definitely grateful that there wasn't any dirty water thrown on me!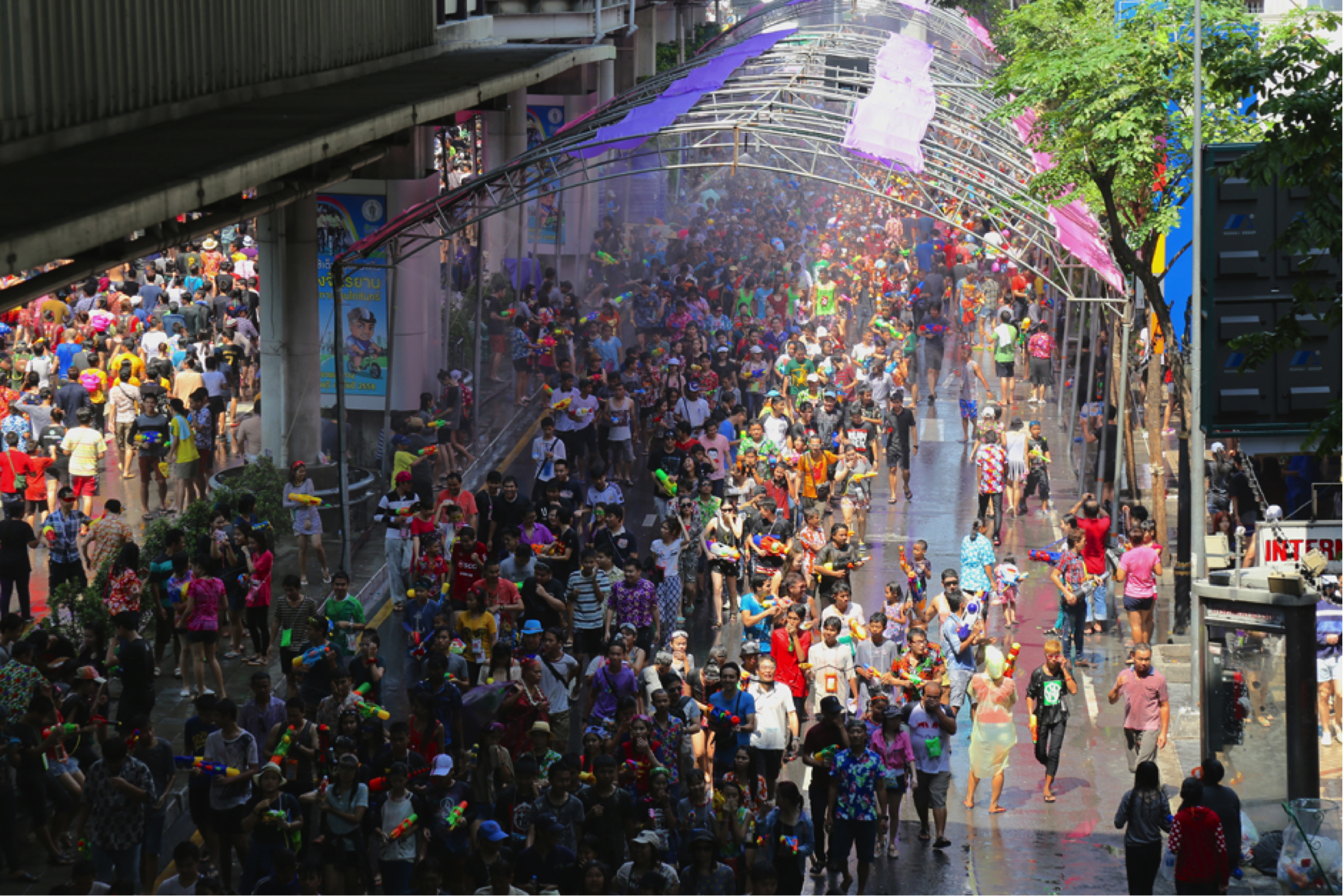 If you're not into getting soaking wet, but prefer watching other people getting soaked, you can enjoy the party and witness the full extent of the water fight on the BTS sky walk that runs above the street. BTS is the city's sky train transportation system. If you're standing at the right spot on the BTS sky walk, you can spot the fire trucks ambush people with their incredibly powerful water hoses. Usually, the crowd is really into it as the heat can reach 104 degrees Fahrenheit (40 degrees Celsius) in the sun.
Khao San Road
If you like the idea of getting soaking wet from head to toe in an overly populated crowd, you should definitely head to Khao San Road. You really don't even need to get close to get wet as the surrounding streets are packed with people spraying and pouring water on you along the way.
At both Silom and Khao San Road, there are rows of stalls and booth selling water guns, waterproof bags for your valuables, food, drinks, alcohol and, of course, water for refilling your water guns.
Local Bars
It's not just wet on the streets; it's also wet in the bars. During the 3 days of celebration, I've experienced the most friendly and polite water fight in my life. Before they pour buckets of water on you (usually ice water), they would politely said "Ko Thoot Na Ka/Krab" with a bow. It means "excuse me/apology" in English. When was the last time someone said sorry to you before dumping a bucket of water on you?
So, here I was sitting down and drinking my Singha beer while people pouring buckets of water on me, simultaneously. Overall, Songkran is an amazing cultural experience.